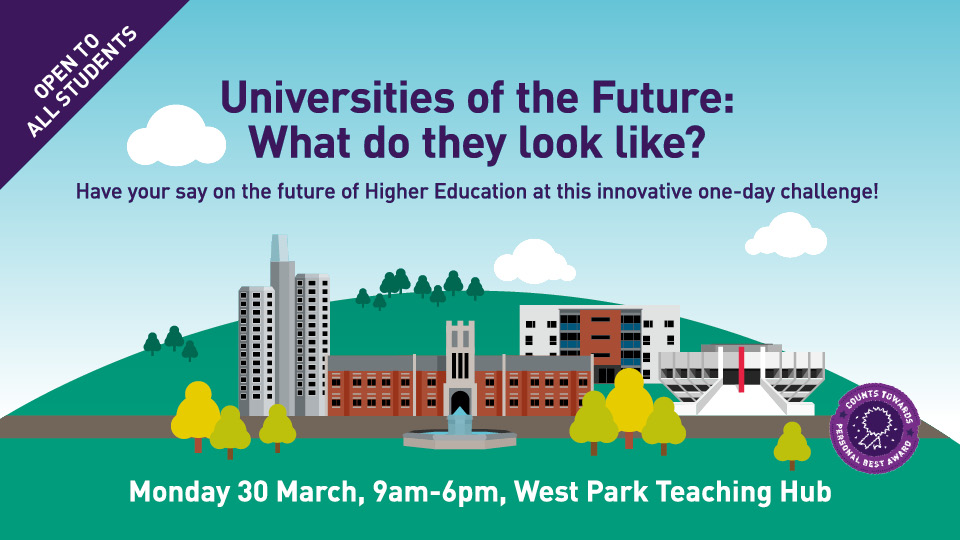 Monday 30 March, 9am – 6pm 
West Park Teaching Hub

Can you create a university of the future? 

During this unique one-day challenge, you'll have the opportunity to work in mixed teams with students from all year groups and all disciplines across campus to create your own version of a university of the future!

This event will provide you with a unique opportunity to:

* Develop and showcase your skills, as well as learning how to model your ideas and pitch your solutions effectively

* Access on-campus expertise from our researchers to our Careers Network and Loughborough Enterprise Network teams
* Be assessment centre ready for those future graduate job application processes
* Stand out to employers as they make up our panel of experts and judges on the day itself!
As part of this event, you'll have the chance to develop the key skills that employers are looking for: 

* Creativity

* Innovation
* Emotional Intelligence
* Collaboration
* Complex Problem-Solving
What's more, as part of this challenge, you'll be in with a chance to win a range of prizes and opportunities - both individually and within your teams!

Are you ready? Book your place today at https://lboro.targetconnect.net/events/events.html?execution=e1s2 and help us to create your university of the future!