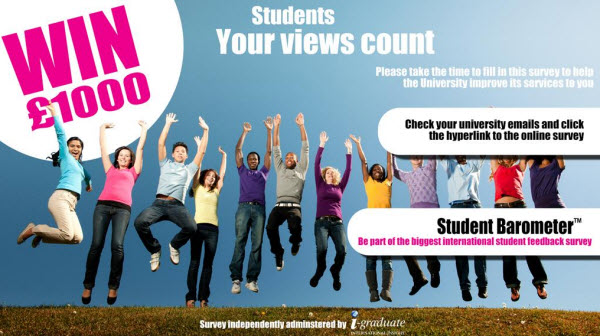 We're committed to improving the experience of our students so we've asked an independent research agency (i-graduate) to gather feedback on your experiences at the University. This is your opportunity to tell us what's working, what's frustrating and what you think of your university experience so far. Please check your university emails and click the hyperlink to the online survey.
It only takes 15 minutes, and the results will help to improve your studies and your social life for the rest of your time at university. As a thank-you, i-graduate is offering the opportunity to:
•           win a £1,000 cash prize or
•           suggest a £1,000 donation to charity 
In addition, Loughborough University is offering a number of prizes, including one £250 Amazon voucher, one £100 Amazon voucher and three £50 Amazon vouchers.
The survey (and prize draw entry) closes on Friday 5th December 2014. All responses are confidential and anonymous, and will be used for research purposes only.